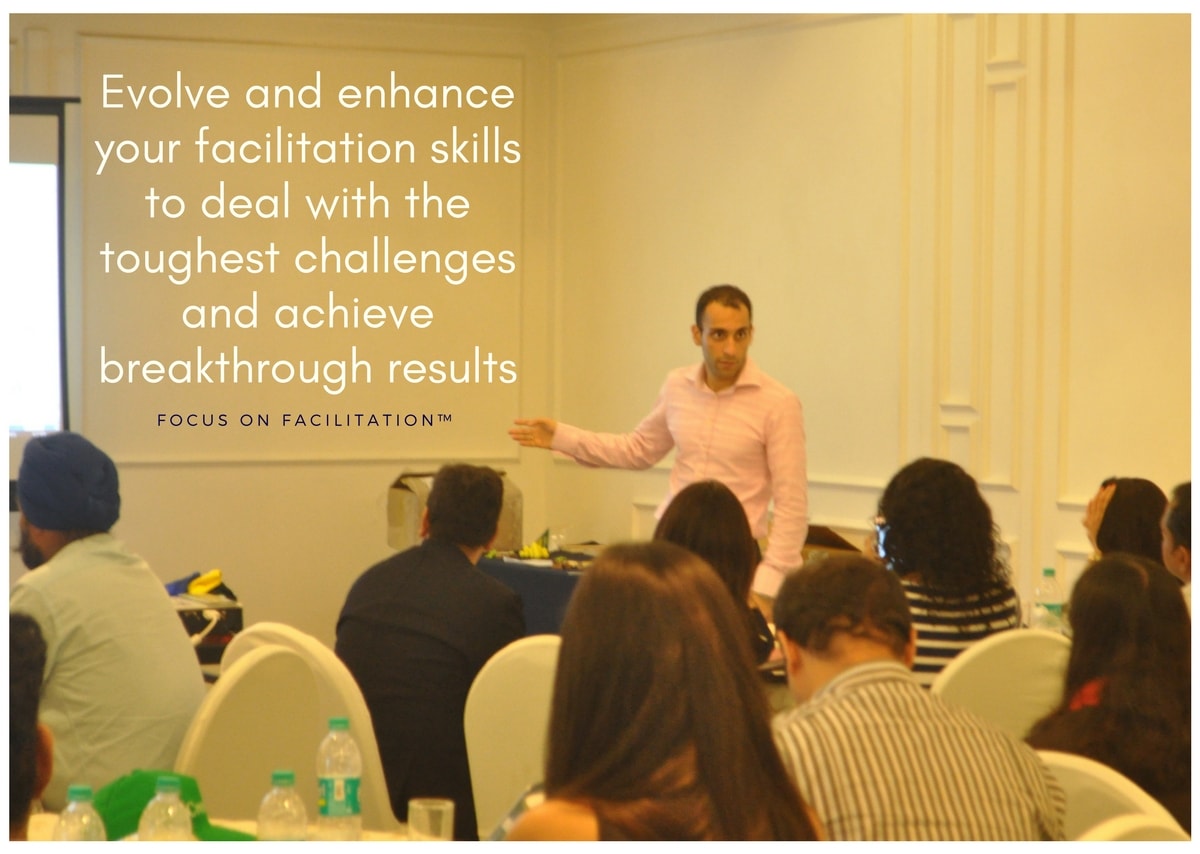 The need for facilitation skills is higher than ever as companies search for specialists who are professionally trained to effectively manage team interactions. However, very few are skilled to deliver the required outcomes - resulting in $000's of cost through time wasted and missed opportunities running ineffective meetings.
Dr. Edward de Bono's facilitation techniques do not scrutinise your delivery process. Instead, using a proven system and providing practical tools, the focus is on the thinking, planning and actions you can take to improve results:
Supercharging productivity - reducing the time spent planning, creative problem-solving and conducting group thinking sessions, meetings and interactions.
Confidently taking your skills from facilitator to practitioner - adding more variety to how you expand and distil the thinking needed to encourage collaboration in a proactive way.
Accomplishing more and reach collective decisions faster - increasing engagement, gaining consensus and buy-in.
This instructor led workshop teaches practical tools: requires multiple, coached facilitation practices and includes many useful resources to support you in applying your new techniques :
Executive portfolio with room for all your facilitator visuals
Complete facilitator handbook (we call it the facilitator's bible!)
Exercise book to collect all the tips you get and thinking you do during the workshop
Facilitation cards to "deal" yourself a visual map of the agenda you're planning
Table mats that engage your meeting participants in tracking group progress
Slide rules so participants can easily call to mind the steps in the de Bono thinking methods
Capture cards for writing, sorting, and assessing ideas generated
Energy dots to indicate top priority ideas and to measure buy-in on decisions made
Catalog of colorful, practical facilitation supplies, both de Bono specific and generic
Group Meetings / Conference / Strategy Meetings / Idea generation
With the proficiency gained from this course, you'll have complete confidence in your ability to work with groups as an expert de bono facilitator. Participants will show up prepared and will contribute fully when you employ all your new tools and techniques. They will rave about your meetings and the results that come from them.
Read More
Open House
Workshop Dates
New Delhi TBA
Mumbai TBA
Bangalore TBA
Register
Customize
It was a wonderful workshop. Perhaps, one of the best training I have ever attended. Thank you Dr. Sunil for keeping us thoroughly engaged and making us to think!
Shridhar H.M
Arvind lifestyle brands ltd
Getting more knowledge, how to manage situation, decision making and problem solving.
Savita Kulkarni
Siemens technology & services pvt ltd
Once in a while I attend training program in our organisation that is so encouraging that it makes time away from my core job worth while. It should have focus group session to solve the real problem caused by organisation.
Ravi Ranjan
Capgemini consulting india pvt ltd
Very interactive training. I had best engagement ever in life in any training attended till date. Trainer magically made everyone 100% awake even in after lunch hours
Piyush Pant
Ericsson india global services pvt ltd
These tools will help me to cover up with alternatives and better ideas in my personal lives.
Muhammad waseem
UTC Aerospace systems
Well structured cources. What was most interesting was the real life cause studies that Dr. Sunil related to different concepts. Most courses step at teaching new tools. However this one facilated stakeholder management which makes it very practical.
Priyanka ahuja
Deloitte consulting india pvt ltd
Brilliant learning and being aware of how to address and solve concerns in time bound manner and collaboratively. Some more videos would have made it more closer to the subject.
Gurvinder kumar
janalakshmi financial services ltd
Training helps a lot in all situation. I would recommend it strongly for others. Excellent!
Hema Chandra
Didelity business services india pvt ltd