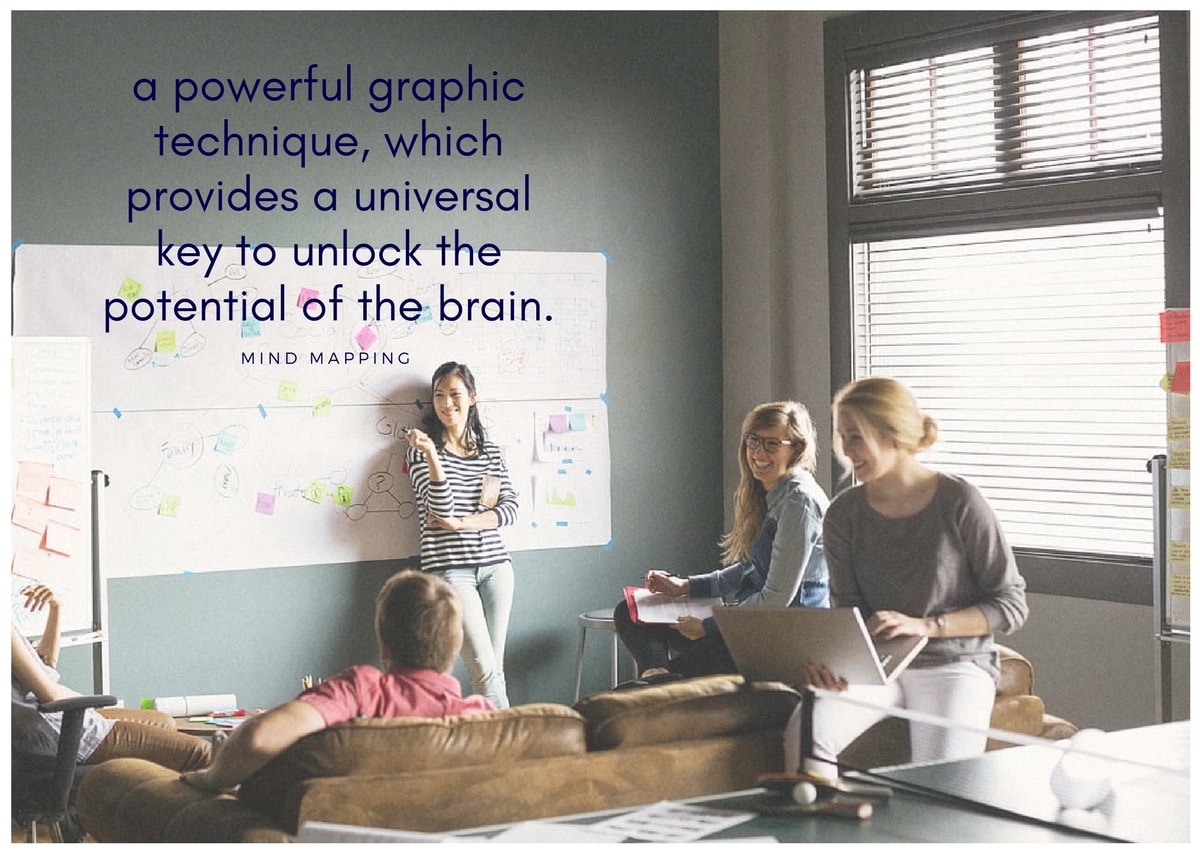 The Mapping for Business takes Tony Buzan's widely recognized technique for effective thinking and learning, and shows you how to apply it and benefit from it, in the business environment. It will enable you to think more creatively and incisively, plan more effectively, improve your memory and raise your effectiveness at work to ever higher levels.
Today's work environment demands that we all save time, improve efficiency and be more creative in our thinking. As a result, more and more people are turning to Mind Mapping as an essential business tool to add to their intellectual armory.
Learn practical Mind Mapping techniques confidently apply them to your everyday process.
Improve your organizational skills rather than writing copious pages of notes you'll be able to pre sent information in an organized and easy to follow format.
Identify and understand a project Mind Maps offer you a visual (non linear) structure to maximize the thinking potential of your brain.
Add structure Mind Maps are a good way to plan and structure projects, presentations, writing and other business tasks.
Refresh your thinking the single page format allows you to revisit a subject, refresh it and where required review that subject quickly and easily.
Involve your challenges the simple format means others can read, understand and add their own ideas.
Enhance creativity promote free thinking and become more creative.
Improves memory the structure of a Mind Map makes it easier for you to remember more.
Aids problem solving by bringing all of the information together from differing sources to one page.
Save time Mind Maps can be adapted to almost any task and will improve efficiency and help you to become more effective.
Versatility Mind Maps are sohat they can lend themselves to virtually any task in and out of the workplace.
Director, General Managers, Managers in HR , Marketing and Sales and communication and others who are interested in improving their personal effectiveness.
Communication
Personal Effectiveness
Team Building
Research and Analysis
Managing Information
Project & Organizational Skills
Read More
Open House
Workshop Dates
New Delhi TBA
Mumbai TBA
Bangalore TBA
Register
Customize
It was a wonderful workshop. Perhaps, one of the best training I have ever attended. Thank you Dr. Sunil for keeping us thoroughly engaged and making us to think!
Shridhar H.M
Arvind lifestyle brands ltd
Getting more knowledge, how to manage situation, decision making and problem solving.
Savita Kulkarni
Siemens technology & services pvt ltd
Once in a while I attend training program in our organisation that is so encouraging that it makes time away from my core job worth while. It should have focus group session to solve the real problem caused by organisation.
Ravi Ranjan
Capgemini consulting india pvt ltd
Very interactive training. I had best engagement ever in life in any training attended till date. Trainer magically made everyone 100% awake even in after lunch hours
Piyush Pant
Ericsson india global services pvt ltd
These tools will help me to cover up with alternatives and better ideas in my personal lives.
Muhammad waseem
UTC Aerospace systems
Well structured cources. What was most interesting was the real life cause studies that Dr. Sunil related to different concepts. Most courses step at teaching new tools. However this one facilated stakeholder management which makes it very practical.
Priyanka ahuja
Deloitte consulting india pvt ltd
Brilliant learning and being aware of how to address and solve concerns in time bound manner and collaboratively. Some more videos would have made it more closer to the subject.
Gurvinder kumar
janalakshmi financial services ltd
Training helps a lot in all situation. I would recommend it strongly for others. Excellent!
Hema Chandra
Didelity business services india pvt ltd