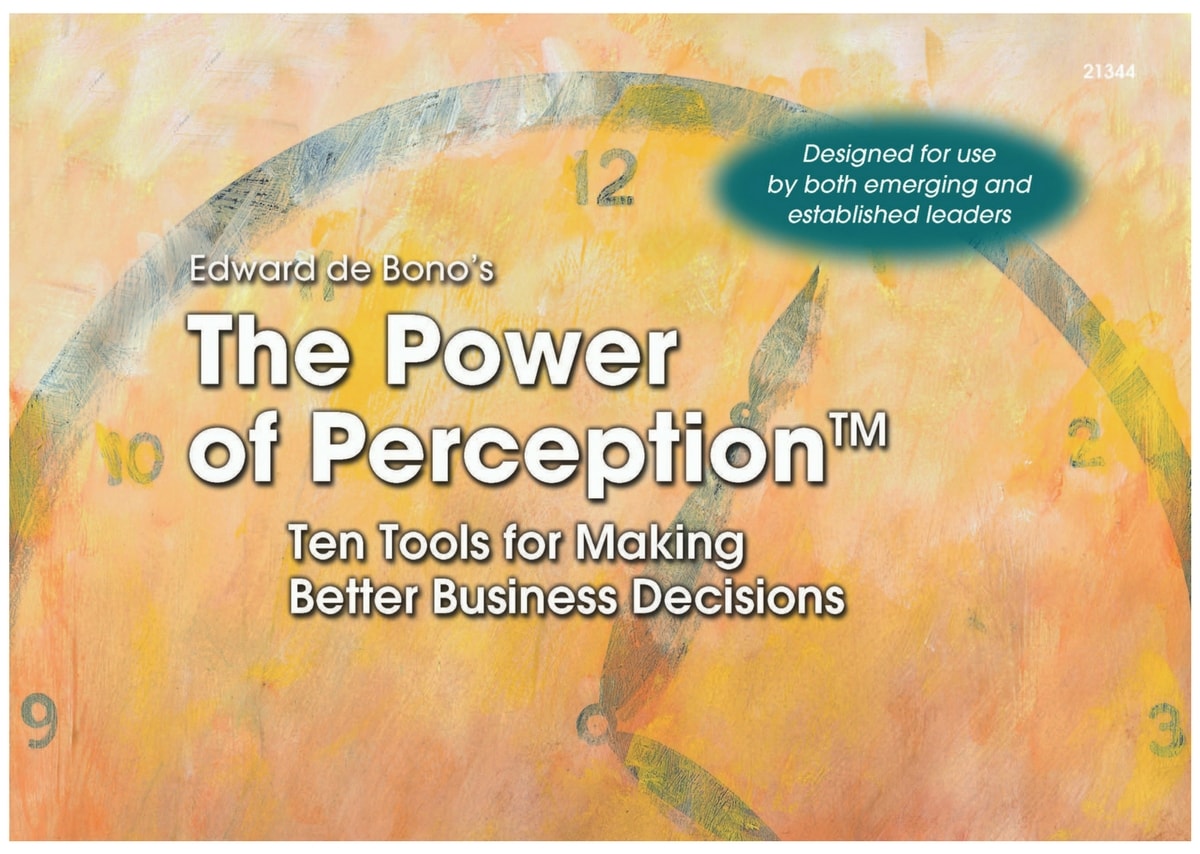 We've all said it. "Too much to do, too little time". But what if you could really focus? What if you could cut out all the distractions and funnel your thoughts until you drill down to the right action? Think how much more you could accomplish.

The Power of Perception™ gives you 10 simple strategies for sharpening your perception and focusing your thinking in a more comprehensive, effective, and efficient way. PoP™ will enable you to have a broad and inclusive viewpoint. The tools create a framework for defining a situation. That framework will improve your ability to consider consequences before you take action.

Our modern lives - both business and personal - are very fast paced and full of action. We often confuse action with accomplishment and frequently jump to action without enough thought. We love to take action and see what happens - if it's good, we keep going; if it's bad, we stop and clean up the mess we have created. Sure, it's better than doing nothing at all but it's inefficient at best and costly at its worst.
Be a strong and confident decision maker
Quickly and accurately weigh risks against rewards
Consistently "make the right call"
Reach optimal solutions more quickly than ever before
Uncover the hidden opportunities in "problems"
Use "what if" thinking to avoid costly mistakes
Look beyond the boundaries of self-limiting perspectives
Remove obstacles with simple solutions
Be a visionary
Thoroughly judge a situation
Assess all angles of the big picture before making a decision
Managers and executives who require greater levels of innovation and creativity.
Project / Strategy teams.
Departmental managers and their teams.
Individual contributors and teams working in highly competitive or changing environments.
Decision Making
Risk Taking ability
Visionary
How to Identify Opportunities
Think Beyond
Avoid Costly Mistakes
Effective Problem Solving
Read More
Open House
Workshop Dates
New Delhi TBA
Mumbai TBA
Bangalore TBA
Register
Customize
It was a wonderful workshop. Perhaps, one of the best training I have ever attended. Thank you Dr. Sunil for keeping us thoroughly engaged and making us to think!
Shridhar H.M
Arvind lifestyle brands ltd
Getting more knowledge, how to manage situation, decision making and problem solving.
Savita Kulkarni
Siemens technology & services pvt ltd
Once in a while I attend training program in our organisation that is so encouraging that it makes time away from my core job worth while. It should have focus group session to solve the real problem caused by organisation.
Ravi Ranjan
Capgemini consulting india pvt ltd
Very interactive training. I had best engagement ever in life in any training attended till date. Trainer magically made everyone 100% awake even in after lunch hours
Piyush Pant
Ericsson india global services pvt ltd
These tools will help me to cover up with alternatives and better ideas in my personal lives.
Muhammad waseem
UTC Aerospace systems
Well structured cources. What was most interesting was the real life cause studies that Dr. Sunil related to different concepts. Most courses step at teaching new tools. However this one facilated stakeholder management which makes it very practical.
Priyanka ahuja
Deloitte consulting india pvt ltd
Brilliant learning and being aware of how to address and solve concerns in time bound manner and collaboratively. Some more videos would have made it more closer to the subject.
Gurvinder kumar
janalakshmi financial services ltd
Training helps a lot in all situation. I would recommend it strongly for others. Excellent!
Hema Chandra
Didelity business services india pvt ltd