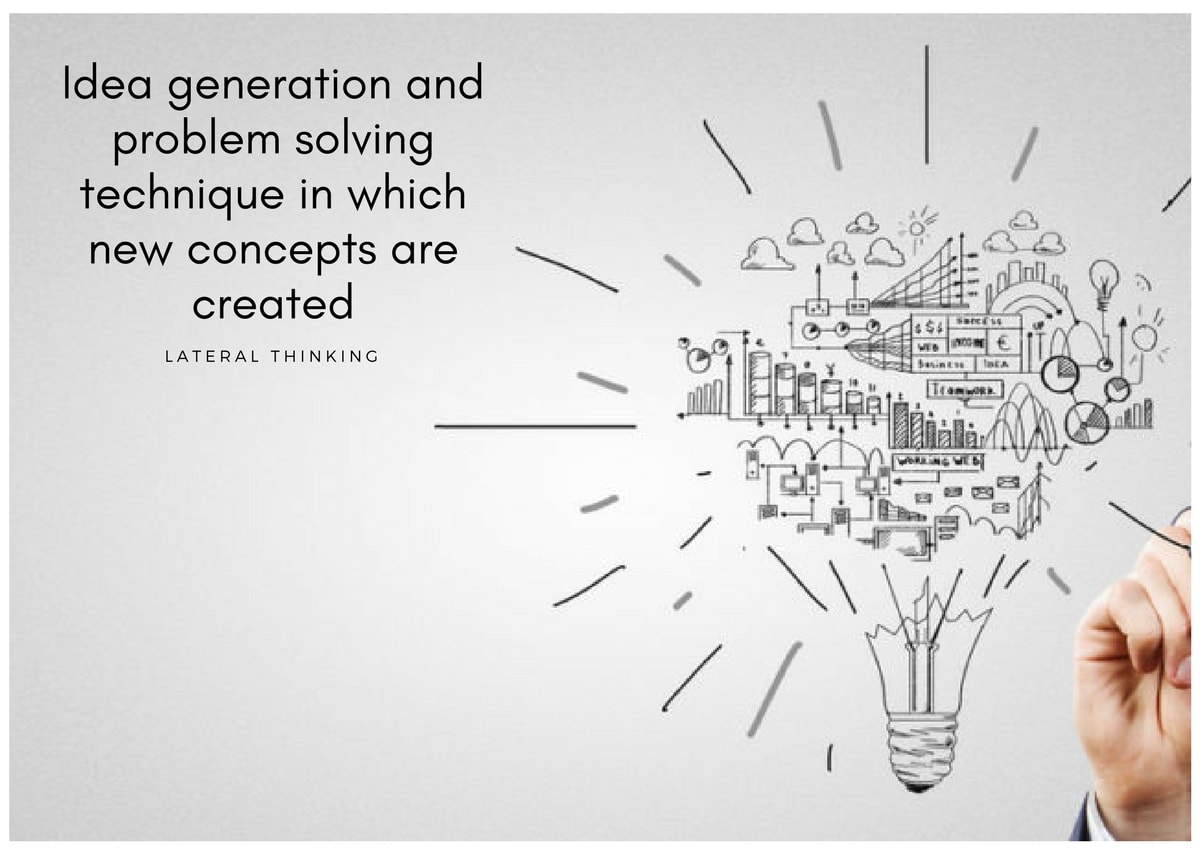 Lateral thinking is solving problems through an indirect and creative approach, using reasoning that is not immediately obvious and involving ideas that may not be obtainable by using only traditional step-by-step logic. Lateral Thinking is a deliberate, systematic creative-thinking process that deliberately looks at challenges from completely different angles. By introducing specific, unconventional thinking techniques, lateral thinking enables thinkers to find novel solutions that would otherwise remain uncovered.

Lateral Thinking : is a deliberate, systematic, step-by-step process designed to uncover powerful new solutions by moving your thinking beyond the predictable. Learn how-to strengthen your business with a steady flow of profitable business ideas, "out-think" the competition. It doesn't matter what part of the business you are responsible for, or what industry you work in. Most likely you are being asked to deliver more innovative solutions. If you want to improve your business results, this practical tool kit is for you.
Lateral Thinking is regularly used by Fortune 500 companies. By attending Lateral Thinking you will learn to:
Quick start creativity - apply structured thinking processes to facilitate personal and group idea generation.
Challenge current thinking by considering alternatives outside of the status quo and current thinking patterns.
Harvest and evaluate ideas generated in a creative session for practical implementation.
Generate unique solutions to difficult problems.
Not only people who devise strategy or work in R & D, but anyone who wants a disciplined process for innovation, idea generation, concept development, creative problem solving, or a strategy to challenge the status quo can benefit from Lateral Thinking.
Idea Generation
Strategy Development
Systematic Thinking
Problem Solving
Creativity & Innovation
Communicative competency
capacity building technique
Increase Leadership Behavior
Read More
Open House
Workshop Dates
Mumbai 9th Oct
Pune 10th Oct
Bangalore 11th Oct
Hyderabad 12th Oct
Chennai 16th Oct
Kolkata 17th Oct
Delhi NCR 23rd Oct
Register
Customize
It was a wonderful workshop. Perhaps, one of the best training I have ever attended. Thank you Dr. Sunil for keeping us thoroughly engaged and making us to think!
Shridhar H.M
Arvind lifestyle brands ltd
Getting more knowledge, how to manage situation, decision making and problem solving.
Savita Kulkarni
Siemens technology & services pvt ltd
Once in a while I attend training program in our organisation that is so encouraging that it makes time away from my core job worth while. It should have focus group session to solve the real problem caused by organisation.
Ravi Ranjan
Capgemini consulting india pvt ltd
Very interactive training. I had best engagement ever in life in any training attended till date. Trainer magically made everyone 100% awake even in after lunch hours
Piyush Pant
Ericsson india global services pvt ltd
These tools will help me to cover up with alternatives and better ideas in my personal lives.
Muhammad waseem
UTC Aerospace systems
Well structured cources. What was most interesting was the real life cause studies that Dr. Sunil related to different concepts. Most courses step at teaching new tools. However this one facilated stakeholder management which makes it very practical.
Priyanka ahuja
Deloitte consulting india pvt ltd
Brilliant learning and being aware of how to address and solve concerns in time bound manner and collaboratively. Some more videos would have made it more closer to the subject.
Gurvinder kumar
janalakshmi financial services ltd
Training helps a lot in all situation. I would recommend it strongly for others. Excellent!
Hema Chandra
Didelity business services india pvt ltd